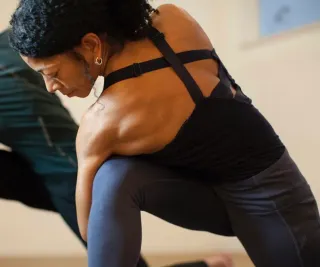 Critically Align Yoga Online
Add to Favorites
5 (6 Reviews)
About us
Critically Align Yoga is an online studio focusing on Critical Alignment Yoga style. The classes are online-live with a personal touch and suitable for both beginners and advanced students coming from another yoga training. Weekly CAY classes plus CAY Restorative 50+, CAY Flow Yoga and Stretch. The primary goal of Critical Alignment Yoga (CAY) is to mobilize and align the spinal column, restoring crucial mobility, balance and spaciousness to the rest of the body. Over time, we all become increasingly crooked, as residual tensions slowly push and pull heads, necks and backs out of alignment. We take these tensions with us everywhere, even when we are doing yoga. In Critical Alignment Yoga, we start passive relaxing exercises, using props like yoga strip, felt mat to make the tension in the body tangible and to develop awareness. We focus on relaxing the movement muscles, to restored mobility in the spine. When the upper back becomes, more straight other parts of the body can work in harmony with the rest of the body. Through CAY, students discover how stiffness and a lack of stability in the back influence body and behaviour, in yoga and daily life. Problems like RSI, pain in the lower back and shoulders can be the results of the wrong preferred daily posture. CAY can relieve and solved these issues and restore the strength and flexibility in the body. An open and healthy body posture starts with Critical Alignment Yoga. You can register for all lessons up to 1hour in advance. Cancellations are only possible online on Eversport up to 24 hours in advance.
Amenities
Showers

Food

Shop

Wellness

Changing rooms

Parking lot

Card Payment
Reviews
5.0
6 reviews
Erg fijne opbouw van de lessen met een duidelijk einddoel. Je weet dus waar je naar toewerkt. Mijn lage rugpijn en pijn in de liezen is helemaal verdwenen sinds ik deze CAY-lessen volg! Iris is een,zeer ervaren docent die weet wat ze doet.
---
I am new to critical alignment yoga and I never imagined these classes could mean so much to me. I did not know that my physical tension was making me stiff now I feel a sense of relief and joy, I am feeling strong as well. Iris is a magnificent teacher, she is passionate, professional and her instructions are detailed. She takes care of you by giving individual corrections. I highly recommend Iris and her classes, you are in good hands. I live in Italy and it is nice to connect and to be able to join these classes, we have nothing like it here and more people should take this classes. BTW, Iris speaks a bit of Italian too
---
I have chronic thoracale issues and the restorative critical alignment yoga specifically targets movement on this difficult to reach area. The lesson relieves the pain in such a manner that I feel like a new woman afterwards. Iris is professional and knows her stuff. I cannot recommend this class enough. Try it out for those back issues you won't regret it.
---
Goede lessen. Goed voorbereid en duidelijke uitleg.
---
Further helpful information
About the Team
I am Iris Reyes; a formal ballet dancer who started to practise yoga alongside my long and successful dance career back in the nineteens. I discovered my body and mind potential through yoga and meditation. At the end of my dance career, I became a rehearsal director of a ballet company for twelve years. At the same time, I started the teacher's course at Critical Alignment Yoga-Therapy in Amsterdam with Gert van Leeuwen (founder of CAY-T). In addition to teaching yoga classes, I work as a guest ballet rehearsal director at the National Ballet Junior Company in Amsterdam. Since I was six my life has been about movement, I am very passionate, both in dance and yoga, to be able to pass on my experience, helping people to discover their mind-body potential through yoga, and to inspire them to move more freely and with more pleasure. Cultivating awareness for a healthy posture and mindset. Due to the closing of the studios and gyms, where I teach as a consequence of COVID-19, I decided to go online with CAY lessons in March this year. It is incredible how well it is going that Eversport is for me the next step so, I can spend more time preparing all my classes/teaching and less on the administration!. Since July I am back teaching in the evening live in several studios in Amsterdam; therefore I can teach only on Monday evening online but, hey!, it is via Zoom, and there is always a place available for you. I strive to make the on-demand lessons available to you as soon as I can. I speak Dutch, English, Spanish, Italian and Brazilian Portugees and classes are in English if there are non-Dutch speaking students joining. From the comfort of your own home, I hope to see you soon on the mat. Get in touch if you have any questions, Namaste! Iris