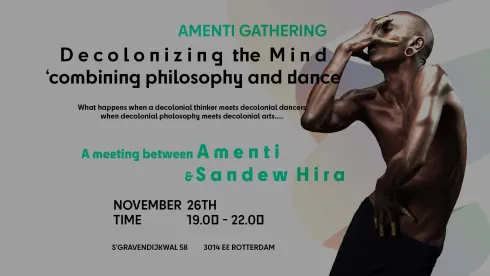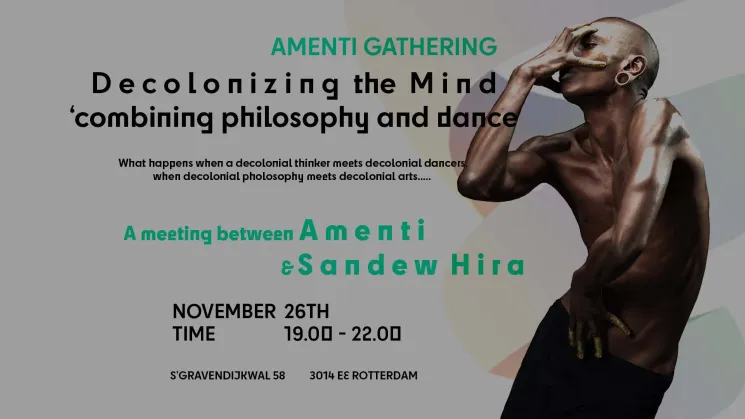 Decolonizing the Mind - Combining philosophy and dance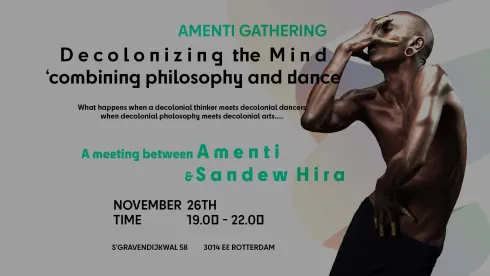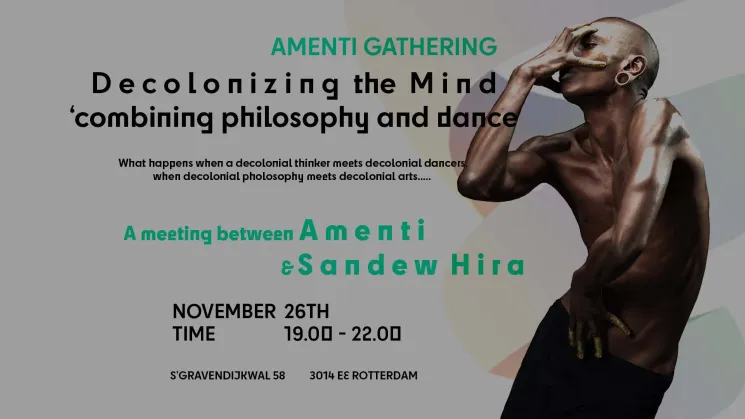 What happens when a decolonial thinker meets decolonial dancers when decolonial philosophy meets decolonial art... it blows your mind.
How can art contribute to decolonizing the mind? Immersing the spectator with feelings, rather than intellectual words. A way to empathize and create a connection.
Amenti invites Sandew Hira this evening. Sandew Hira, a pseudonym for Dew Baboeram, is a historian and writer who published 20 books. Currently, he is writing a book about decolonizing the mind. During this evening we will go into conversation with Sandew, through words and dance. We invite you to attend this evening to learn but also discuss topics related to the decolonizing of the mind. During our 'conversation' there is room for questions and remarks. We would like to make this evening interactive, knowledgeable and magical.
Date
Started on Friday, November 26, 2021
Multiple sessions - see schedule
's-Gravendijkwal 58, 3014 EE Rotterdam
Teacher
Amenti MoveMeant
Schedule
Check out which dates are available for this event
| Date | Time | Location | Teacher |
| --- | --- | --- | --- |
| 11/26/2021 | 07:00 PM - 10:00 PM | 's-Gravendijkwal 58, 3014 EE Rotterdam | Amenti MoveMeant |
Cancellation policy
Annuleringen zijn online mogelijk op Eversports tot 24 uur voor aanvang.
Decolonizing the Mind - Combining philosophy and dance
Date
Started on Friday, November 26, 2021
Multiple sessions - see schedule