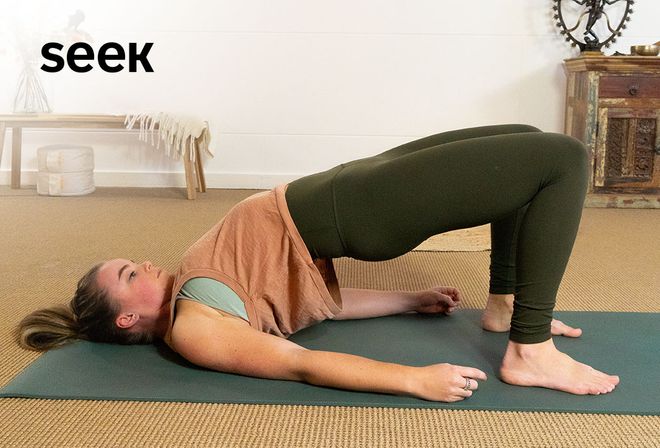 SEEK | Verlichting rugklachten | Docente Eveline
Video
Availability after purchase
1 month
About the class
In deze video neemt de docente je mee in een les voor verlichting van rugklachten, ontspan, luister en ervaar mee.
Welkom bij de les! In deze practice wordt je meegenomen in een aantal oefeningen die bedoeld zijn voor lage rugklachten dat veroorzaakt kan worden door verschillende factoren. Voorbeelden zijn een verkeerde houding, herhaaldelijk een zelfde beweging maken, maar het kan ook stress gerelateerd zijn.
Kijk voor de practice eerst even naar de klachten en voel goed wat fijn voor jou is en juist niet. Als je in de situatie zit dat het niet goed voelt, mag je een andere houding aannemen of de houding overslaan. Het is niet de bedoeling dat de oefeningen pijn doen.
Blijf vanuit rust en aandacht ademhalen. Op het moment dat er ongemak aanwezig is in het lichaam. De practice begin je door de staande positie aan te houden met voeten op heupbreedte te zetten, schouders iets naar achteren en het hoofd staat recht.
Ontspan, luister en ervaar de les voor verlichting van rugklachten mee op een prettige manier voor jou!
Na het einde van de practice ga je zitten in een positie die voor jou prettig aanvoelt met de handen op geplaatst op de onderbuik en sluit een moment je ogen. Door te ontspannen, laat je de buik weer vallen in je handen. Ontspan de buik, de bekkenbodem spieren en voel het contact van je zitbotten aan de mat. Adem nu nog een paar keer goed in en uit richting je handen. Laat de handen los en je mag de ogen openen.
Bedankt voor je aandacht en tijd!
Namasté
About the trainer/teacher
Ik zie het als mijn missie om de kracht van yoga door te geven. Dit doe ik vanuit liefde, openheid en compassie voor jouw proces. Zodat ook jouw innerlijke kracht in alle veiligheid mag opbloeien. Daarnaast zal ik ook altijd inzetten op Yoga als levensstijl. Deze yoga mindset is de spiegel die te zien is in het denken en doen in alledaagse handelingen. Daar waar je de yoga practice van de mat af meeneemt in je dagelijkse leven is waar je daadwerkelijk ''thuis'' komt in ieder moment.