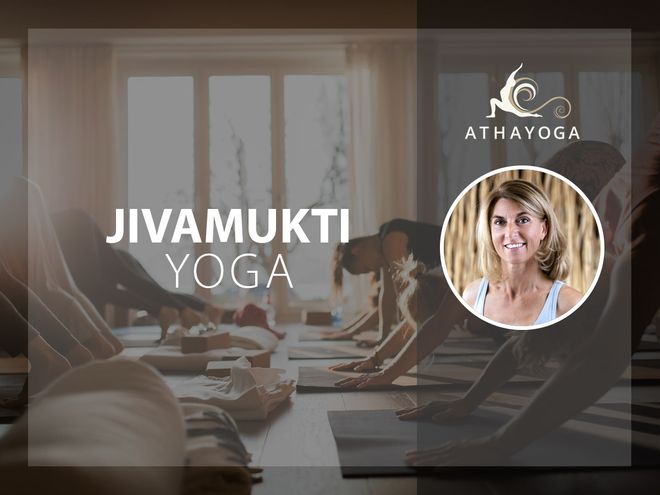 Jivamukti Yoga (EN) - LIVE Stream
Video
Originally live streamed on
Wed, 24/11/21, 09:30 - 10:45 (75 min)
Facility/Studio
ATHAYOGA - Zollikon
Teacher
Anne-Sophie Fenner
Available until
10/12/2021 10:45 o'clock
Price
11.90 CHF
Single ticket
0.00 CHF
DROP-IN LIVE Stream (FREE)
18.00 CHF
DROP-IN LIVE Stream
69.00 CHF
3ER TRIAL BLOCK (Probeabo)
79.00 CHF
5ER BLOCK ONLINE
129.00 CHF
5ER BLOCK 60
169.00 CHF
5ER BLOCK ALL
255.00 CHF
10ER BLOCK 60
265.00 CHF
UNLIMITED 1 PREPAID
325.00 CHF
10ER BLOCK ALL
1,190.00 CHF
UNLIMITED 6 PREPAID
2,100.00 CHF
UNLIMITED 12 PREPAID
179.00 CHF

/ month

UNLIMITED 1 | ONLINE
189.00 CHF

/ month

UNLIMITED 12
220.00 CHF

/ month

UNLIMITED 6
265.00 CHF

/ month

UNLIMITED 1
About the class
Jivamukti Yoga (EN) The Jivamukti Open Class is taught in a Vinyasa Stile and presents classical Yoga teachings: dynamic asanas sequences, alignment, breath awareness, chanting, meditation and spiritual teaching. You can work at your own pace as Asana options will be provided. A typical Jivamukti Open Class incorporates the five tenets of the Jivamukti method: Bhakti (devotion), Ahimsa (non-harming), Nada (deep listening), Dhyana (meditation), Sastra (spiritual teachings). The class is always accompanied by inspiring music. The 'focus of the month" makes this class a well rounded experience. The class welcomes practitioners of all levels, yet it is advisable to have some Yoga experience.
Jivamukti Yoga (DE) Eine Jivamukti Openclass wird im Vinyasa Stil praktiziert und bietet alle Inhalte einer klassischen Yoga Session: Dynamische Asana Sequenzen, Alignment, Atem-Bewusstsein (Pranayama), Chanting und spirituelle Lehren. Es werden oft herausfordernde Sequenzen unterrichtet, jedoch stets Varianten angeboten, so dass jeder in seinem Tempo praktizieren kann. Eine typische Jivamukti Klasse richtet sich nach den 5 Säulen der Jivamukti Methode: Bhakti (Hingabe), Ahimsa (Gewaltlosigkeit), Nada (inneres Lauschen), Dhyana (Meditation), Sastra (Spirituelle Lehren). Begleitet werden die Klassen immer von inspirierender Musik. Der spirituelle "Fokus des Monats" begleitet den Unterricht. Diese Klasse ist für alle geeignet doch empfiehlt es sich ein Basiswissen der grundlegenden Asanas zu haben.
About the trainer/teacher
Anne-Sophie Fenner hat als Kind mit Tanz angefangen und nie mehr damit aufgehört. Sie hat dreissig Jahre Erfahrung als professionelle Bühnen-Tänzerin, Choreographin und Bewegungs- Pädagogin und ist auf diesem Weg dem Yoga immer wieder begegnet. Die vielen Jahre die sie in New York gelebt hat, gaben ihr die Möglichkeit sich als Choreographin zu entfalten und brachte sie immer näher zum Yoga. Den initialen Zugang zum Yoga fand sie über die Meditation. In einem Yoga und Surf Retreat in Bali traf sie die Liebe zum Yoga schliesslich wie ein Blitz – seit da praktiziert sie täglich. 2014 lernte sie den Jivamukti Yoga-Stil kennen. Nach einer Yoga Immersion in Woodstock mit Sharon Gannon und David Life (Gründer der Jivamukti Yoga Methode) absolvierte sie das 300hrs Jivamukti Yoga Teacher Training. Zuvor hatte sie eine 200hrs Vinyasa Ausbildung in Zürich absolviert. Ihr Unterrichtsstil ist geprägt von ihrer Liebe zum Tanz und der Achtung vor dem individuellen, kreativen Ausdruck eines jeden Menschen. Ihre Klassen können sowohl dynamisch-kraftvoll als auch ruhig und langsam sein. Ihre Erfahrung mit verschiedenen Entspannungstechniken als auch der ihr innewohnende Rhythmus fliessen natürlich in all ihre Klassen ein. Musik ist essentiell für ihren Yoga-Unterricht. Das Gedankengut der indischen Schriften, Sanskrit und Chanting gehören für sie ebenso dazu wie die Asana Praxis. Yoga ist für Anne-Sophie die natürliche Konsequenz ihrer lebenslangen Hingabe als Künstlerin, die Verbindung zwischen unserem Herzschlag und dem Rhythmus des Universums zu erforschen. Anne-Sophie unterrichtet ihre Yogaklassen in Englisch und Deutsch.