Workshop: Live your Sexual Potential!
Starts on Sunday, 26/06/2022
Price 45.00 €
Description:
Dear woman,
Do you feel that you are more sexual than it appears now? Do you feel reserved and sometimes even blocked in the intimacy with your love?
You are not broken!
We just never learned how to get to our entire Sexual Self. How to get rid of all the sexual conditioning and messages that we (often unconsciously) still carry within ourselves and in our bodies. And how we can transform this into more freedom, pleasure and power and pleasure in our lives.
That's why I give the Workshop 'Live your Sexual Potential!'
In this workshop we will make this journey together, individually and as sisters. We go through the different stages of sexual transformation, where you:
Will create clarity in what still prevents you from enjoying fully and

Will take a step in its transformation.
Towards ultimate freedom and connection.
As a Sex and Relationship Coach with a tantric touch, I stand for a Next Level Sexual Revolution. Both in my own sexual journey in my relationship over the past 20 years, as in the emancipated women around me, I see that the 'old feminism' may make a further development.
One that allows us to really enjoy freedom.
And of enjoying equality and surrender.
of respect and pure pleasure.

of intellectual and spiritual.

of successful and sexy.

of femininity and masculinity.

of softness and polarity.
It will be a workshop full of connection with yourself and with each other. A loving and powerful container for transformation.
We will address both the intellect with theoretical explanations, as well as the wisdom of your own body. Because also here I see that that the so-called opposites of reason and feeling complement each other.
I use bodywork such as breath, body meditation, dance, shaking etc so that everything is included in your system for a deep and lasting transformation. Not just sitting and listening, but also doing and experiencing!
If you have any questions, feel free to email us. We hope to meet you to unleash our collective and your personal sexual revolution!
Love, Renske
PS For the sake of clarity and to relax your system: the clothes remain on ;-)
'Wow, what an amazing experience during Renske's workshop. I wasn't quite sure what to expect, but I did know that my rational brain was blocking the way to the deep wisdom of my body. Renske has a gentle and loving way of bringing you (again) intensely in touch with the deep wisdom of your body. I felt completely safe, so that I could sink intensely and (re)connected with the deep wisdom of my body. Thank you Renske' (Jane McCall)
'In other workshops I saw others open, but I couldn't. In your workshop I did feel that safety and I could go very deep. Finally. The atmosphere you create, the message you have... your energy is very good, thank you!' (~Michelle)
Teacher :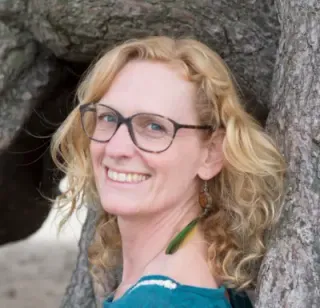 Renske Julia
I am Renske and as a Sex and Relationschip Coach I help individuals and couples who feel sexualy trapped and blocked in their relationship, to fully enjoy their pleasure and live their whole sexual Self. In freedom and connection with their partner and themselves. I see (and experienced in my own relationship-journey of more than 20 years now) and with the woman I coach, that we need both our intellectual mind and the wisdom of our bodies to unwind the deep conditioning we picked up during our lives. I am fascinated and grateful for the role that sexuality and relationships plays in mirroring where we can grow and heal into our most free and powerful self. I love to connect and dive deep with my work, combining the latest science with tantric based bodywork and spiritual magic. Holding deep loving space for the transformational processes of the women, with an intellectual, no-nonsense and grounded flavour. We are whole and sexual beings. All of us.
Dates:
| | | | | |
| --- | --- | --- | --- | --- |
| 1. | 26/06/2022 | 13:30 - 16:00 | Tweede Kostverlorenkade 67, 1053 SB Amsterdam | Renske Julia |
* All prices including VAT