A Special 2-Hour Restorative & Yoga Nidra Class with Sim (Non-Members)
Starts on Saturday, 28/10/2023
Price 30.00 €
Description:
A Special Extra Long Restorative & Yoga Nidra Class with Sim
Come and enjoy a long relaxing and resetting two-hour Restorative & Yoga Nidra class guided by Sim.
At the end of October Autumn will have fully arrived in Amsterdam. In Fall the Summer-yang energy starts shifting to more yin. To make this transition easier, there is a two-hour yoga class scheduled for you. This long/extended class will be all about relaxing, resting, even arriving in your body. Feeling what is present, feeling what your body might need more of in the colder months to come. Proper rest is so important, especially when nature invites us to stay in and make life easier for our selves.
We start with a short introduction and the importance of having an intention, not just for your yoga classes, but an intention for life in general. Some Restorative poses will help you unwind, shift from that go-mode into the rest & digest mode. By moving very little you help the body to transition from the active Summer-energy into the more preserving Fall season. There is no stretching in this classes, only some pressure from gravity.
After the Restorative poses, we move on to a nice, long yoga Nidra, in which you will be able to sink deeper into your own body. Here you can plant the seeds of your intention. Let those seeds ripe, get ready to grow for when Spring comes or even earlier. At the end of the practice there is time for some questions. You are welcome to have a tea at the studio before you head out and continue your Saturday.You are welcome to bring your own favorite blanket or warm, comfy sweater. You can also bring a notebook if you want to take some notes of maybe write down some insights that can come when the body gets the time to properly rest.
We will repeat this class at the beginning of December to close off Fall and to welcome Winter, the ultimate relaxing, preserving season. There will be different Restorative poses and a different Yoga Nidra for this. You are welcome to join both classes to plant the seeds of your intention deeply in your being.
The classes will be guided in English and/or Dutch, depending on the participants.Fee:
Studio Balance members: 25 euros
Non-Studio Balance members: 30 euros
Please know there are limited spots for this special class.
Trainer :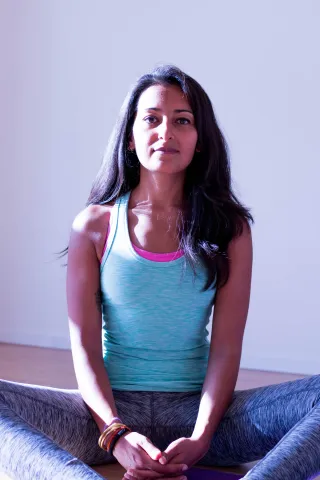 Sim
Dates:
| | | | | |
| --- | --- | --- | --- | --- |
| 1. | 28/10/2023 | 13:00 - 15:00 | Rijnstraat 63h, 1079GW Amsterdam | Sim |
* All prices including VAT