1 Day Rejuvenating Bliss Meditation Retreat
Starts on Sunday, 16/04/2023
Price 120.00 €
Description:
Bliss Love Meditation by Divine Soul Yoga is a powerful way to commune to the Divine within yourself. The root of yoga and meditation is deeply engraved in the soil of India, also known as the land of Spirituality. Our beloved Master, Dr. Deepak Mittal has specially curated a holistic life-altering wellness solution. And Divine Soul Yoga shares this solution to everyone who is open to know it.
Authentic yoga by our well qualified yoga experts, laughter therapy & restorative healing practices through 1 day of complete surrender.
This special holistic wellness retreat consists of practical techniques and anchors that help you achieve a perfect equilibrium between mind, body and soul. Cultivate a life of wisdom and live a supremely victorious journey of life.
Details:
price of the rooms includes the retreat practices
If you wish to stay the residential retreat you must pay an extra fee of 30 euro and (ONLY breakfast is offered the NEXT DAY)!!!
price includes ONLY breakfast & Lunch
Teacher :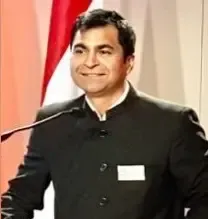 Dr. Amit Khanna
Dr. Amit Khanna is a Physiotherapist, Yoga Expert and Therapist. With more than 15 years of experience in teaching, training and practice in Yoga and Physiotherapy, he has promoted and spread India's cultural reach as a representative of the Government of India for years. The turning point came in his life, when he met Dr Deepak Mittal, Founder of Divine Soul Yoga in the Netherlands and became his disciple and joined his mission.
Dates:
| | | | | |
| --- | --- | --- | --- | --- |
| 1. | 16/04/2023 | 09:00 - 17:00 | Vuurse Dreef 48, 3739 KV Hollandsche Rading | Dr. Amit Khanna |
* All prices including VAT