ReTreat Yourself: re-connect, re-charge, re-think & re-cover
Starts on Friday, 24/06/2022
Price from 300.00 €
Description:
ReTreat Yourself by Divine Soul Yoga is a special retreat program to ReConnect, ReCharge, ReThink & ReCover.
To ReConnect yourself - enjoy Bliss Love Meditation by Divine Soul Yoga. It is a powerful way to commune to the Divine within yourself.
To ReCharge yourself - our Crystal Divine Healing is particularly working with cleaning & energizing your chakras, therefore enrich your knowledge about your own body & its' aura
to ReThink, ancient practice of Yoga Nidra will help you to feel complete relaxation of each and every part of your body
and last but not least: to ReCover yourself as well as ReBoot & ReBuild - yoga will make you feel all the muscles, stranch them well & strengthen them
The root of yoga and meditation is deeply engraved in the soil of India, also known as the land of Spirituality. Our beloved Master, Dr. Deepak Mittal has specially curated a holistic life-altering wellness solution that he shares during his discourses during retreat. Join us for the authentic yoga taught by our well qualified yoga experts, laughter therapy & divine crystal healing practices through 4 days of complete surrender at the luxurious & cozy boutique hotel in Amsterdam - the Unbound. This special holistic wellness retreat consists of practical techniques and anchors that help you achieve a perfect equilibrium between mind, body and soul. Cultivate a life of wisdom and live a supremely victorious journey of life.
Program: - Day 1, Friday, 24th June 2022, 03:00 pm: Check in at the reception Welcome introduction Laughter Yoga Pranayama & Yoga Beautiful Discourse by Master (This will prepare you for next morning meditation) and Q&A - Day 2 & 3, Saturday & Sunday, 25th & 26th June 2022: Deep meditation followed by beautiful discourse Breakfast Restorative Healing Sessions (learn the art of intention & energy) Lunch & Personal time Mindfulness activity Extensive yoga & pranayama sessions by our expert yoga teachers Joyful Laughter sessions with Music - Day 4, Monday, 27th June 2022: Morning Deep meditation & experience sharing Goodbye & Keep practicing Bliss Meditation
Highlights: - 3 night accommodation in a comfortable luxury room (2 participants per room) of The Unbound Hotel - 3 days breakfast - 3 days Bliss Love Meditation, Laughter Therapy and Restorative Healing Sessions - 2 fun loaded afternoon with recreational & mindfulness activities
All skills levels. Venue: The Unbound Tom Schreursweg 40 1067 MC Amsterdam The Netherlands Venue Website: https://unbound-amsterdam.com/en/ IMPORTANT: The rooms are expected to be shared with 2 participants.
Teacher :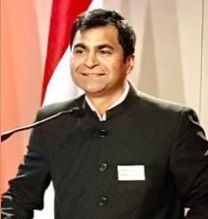 Dr. Amit Khanna
Dr. Amit Khanna is a Physiotherapist, Yoga Expert and Therapist. With more than 15 years of experience in teaching, training and practice in Yoga and Physiotherapy, he has promoted and spread India's cultural reach as a representative of the Government of India for years. The turning point came in his life, when he met Dr Deepak Mittal, Founder of Divine Soul Yoga in the Netherlands and became his disciple and joined his mission.
Dates:
| | | | | |
| --- | --- | --- | --- | --- |
| 1. | 24/06/2022 | 15:00 - 18:30 | Bernissestraat 12B, 1079 ZW Amsterdam | Dr. Amit Khanna |
| 2. | 25/06/2022 | 07:00 - 18:30 | Bernissestraat 12B, 1079 ZW Amsterdam | Dr. Amit Khanna |
| 3. | 26/06/2022 | 07:00 - 18:30 | Bernissestraat 12B, 1079 ZW Amsterdam | Dr. Amit Khanna |
| 4. | 27/06/2022 | 07:00 - 11:00 | Bernissestraat 12B, 1079 ZW Amsterdam | Dr. Amit Khanna |
* All prices including VAT