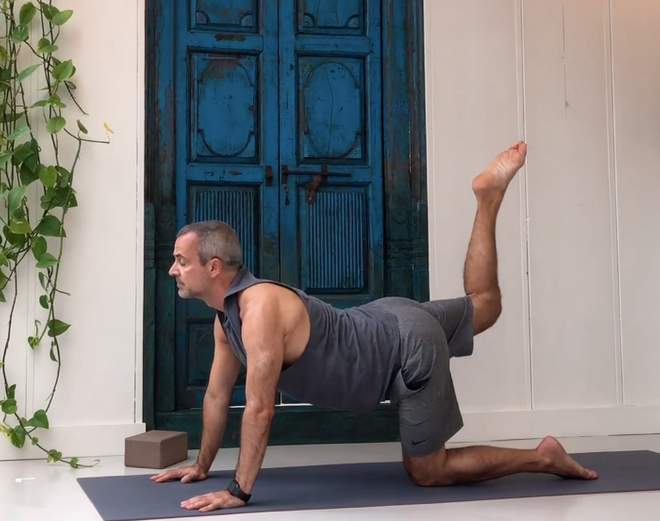 Slow flow
Video
Facility/Studio
Yogapoint Den Bosch
Availability after purchase
48 hours
Price
4.00 €
Proefles Online Yoga (video)
14.00 €
Proefles (1+1 gratis)
14.00 €
Losse les
90.00 €
Rittenkaart 8 lessen
190.00 €
Rittenkaart 20 lessen
27.90 €

/ month

Online only: Video on demand en alle online live lessen
29.90 €

/ month

Light; 5 lessen per maand
44.00 €

/ month

Steady; 10 lessen per maand
54.00 €

/ month

Intensive; 13 lessen per maand
67.00 €

/ month

All in: alles onbeperkt
About the class
Een Slow Flow-les is licht en creatief, in een langzamer tempo en zachter dan de gemiddelde Vinyasa les. Houdingen worden over het algemeen langer vastgehouden en de overgangen tussen houdingen zijn iets langzamer. De zachtere aard van deze les is geweldig voor beginners, maar is ook heerlijk voor gevorderde studenten die zin hebben om te vertragen en dieper in hun beoefening te duiken.
About the trainer/teacher
Over Petros Petros is a passionate yoga teacher. He discovered yoga about 16 years ago on a small Greek island and fell in love with it right away. He hasn't stopped practicing since. Now he is a registered 200h Alliance yoga teacher and he has followed different trainings in Portugal, Spain, Greece and in the Netherlands focussing not only on yoga, but also on healing and deep tissue massage. Petros classes are playful and fun as he is trying to take you away from the stress of the daily routine and make you feel relaxed and refreshed. He will guide you with a positive smile and will make you feel at ease when you come to his class. He will encourage you along the way during your yoga practice to help you keep growing and to recharge your body and spirit.