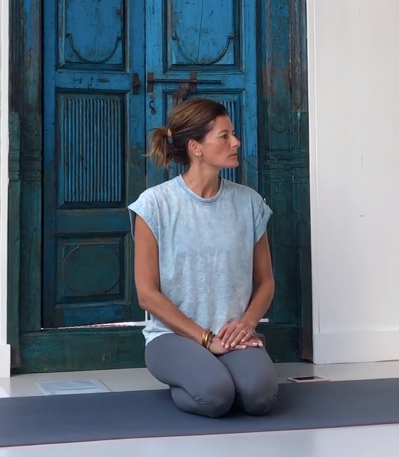 Yin
Video
Facility/Studio
Yogapoint Den Bosch
Availability after purchase
48 hours
Price
4.00 €
Proefles Online Yoga (video)
14.00 €
Proefles (1+1 gratis)
14.00 €
Losse les
90.00 €
Rittenkaart 8 lessen
190.00 €
Rittenkaart 20 lessen
27.90 €

/ month

Online only: Video on demand en alle online live lessen
29.90 €

/ month

Light; 5 lessen per maand
44.00 €

/ month

Steady; 10 lessen per maand
54.00 €

/ month

Intensive; 13 lessen per maand
67.00 €

/ month

All in: alles onbeperkt
About the class
In deze Yin yogales worden posities langer vastgehouden eventueel met behulp van kussens, blokken of dekens. Je hebt zo meer tijd om je lichaam te voelen en dieper te ontspannen. Je versterkt én versoepelt de pezen en dieper liggende spieren, het bindweefsel en de gewrichten.
About the trainer/teacher
Over Martine Martine, yogadocente en mindfulness trainster en yoga is 'a way of living and a way of being'. Ze beoefent yoga sinds 2003 en heeft in 2008 de eerste teachertraining gevolgd bij Sivananda Yoga. Daarna volgden vele workshops van diverse stromingen, yogaretreats in Europa en Azië en de Yin Yoga opleiding. Zij is geregistreerd bij YogaAlliance. In de lessen is er naast aandacht voor de houdingen en adem, ook aandacht voor de yogafilosofie, juist omdat yoga meer is dan de bewegingen met ons lichaam.