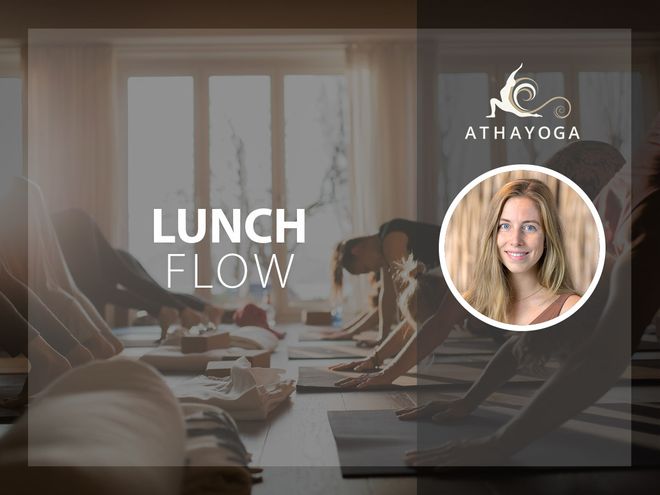 Lunch Flow (DE) - LIVE Stream
Video
Originally live streamed on
Wed, 24/11/21, 12:15 - 13:15 (60 min)
Facility/Studio
ATHAYOGA - Zollikon
Available until
08/12/2021 13:15 o'clock
Price
11.90 CHF
Single ticket
0.00 CHF
DROP-IN LIVE Stream (FREE)
18.00 CHF
DROP-IN LIVE Stream
69.00 CHF
3ER TRIAL BLOCK (Probeabo)
79.00 CHF
5ER BLOCK ONLINE
129.00 CHF
5ER BLOCK 60
169.00 CHF
5ER BLOCK ALL
255.00 CHF
10ER BLOCK 60
265.00 CHF
UNLIMITED 1 PREPAID
325.00 CHF
10ER BLOCK ALL
1,190.00 CHF
UNLIMITED 6 PREPAID
2,100.00 CHF
UNLIMITED 12 PREPAID
179.00 CHF

/ month

UNLIMITED 1 | ONLINE
189.00 CHF

/ month

UNLIMITED 12
220.00 CHF

/ month

UNLIMITED 6
265.00 CHF

/ month

UNLIMITED 1
About the class
DE: Lunch Flow ist die ideale Stunde für alle, die sich gerne über Mittag und vor dem Essen bewegen möchten. Gezielte Übungen, um Beine und Oberkörper zu stärken, die Hüften zu öffnen und die Wirbelsäule zu entspannen, stehen im Fokus. Perfekt, um wieder voller Energie und Freude in den Nachmittag einzusteigen. Level: für alle Levels geeignet.
EN: Our Lunch Flow is the ideal class for those, who are looking to incorporate movement and exercise during their lunch break. It focuses on specific postures to strengthen legs and the upper body, to open up the hips and to relax the spine. Perfect to recover, to get new energy and starting the afternoon with joy! Level: suitable for all levels.
About the trainer/teacher
Ursina hat 2010 zum Yoga gefunden und sieht sich seither als Schülerin des Yogas. Sie hat über 700h Stunden Aus- und Weiterbildungen im Yoga absolviert, begibt sich regelmässig in die Stille in Meditationsretreats und bildet sich aktuell zur MBSR-Lehrerin (mindfulness based stress reduction) aus. . Ursina legt in ihrem Unterricht wert auf eine freundliche Atmosphäre, in welcher die Schüler sich wohlfühlen. Ihre Lektionen sind durch unterschiedliche Stile beeinflusst, hauptsächlich durch Hatha. Ihre Stunden sind oft eine Kombination von Flow und dem bewussten längerem Halten einzelner Übungen. Sie schätzt die Anwendung von Hilfsmitteln sehr und legt grossen wert darauf, dass die Übungen für alle Schüler zugänglich gemacht werden können. Die Vipassana Meditation ist ein wichtiger Bestandteil der täglichen Praxis von Ursina und kommt auch in ihren Yoga Stunden zum Ausdruck.