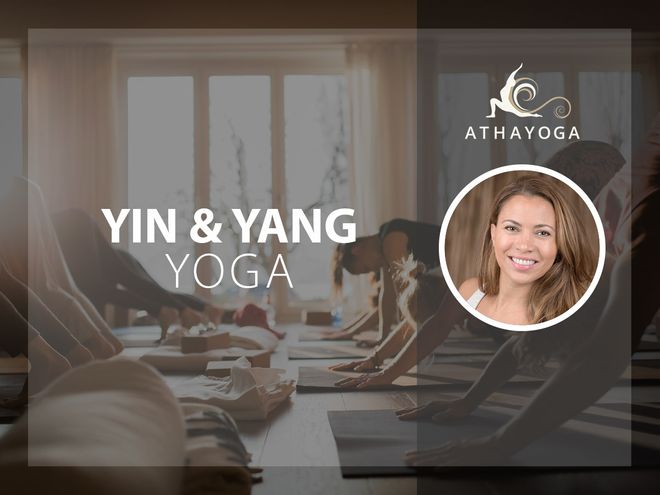 Yin & Yang (DE) - LIVE Stream
Video
Originally live streamed on
Wed, 24/11/21, 19:00 - 20:15 (75 min)
Facility/Studio
ATHAYOGA - Zollikon
Available until
08/12/2021 20:15 o'clock
Price
11.90 CHF
Single ticket
0.00 CHF
DROP-IN LIVE Stream (FREE)
18.00 CHF
DROP-IN LIVE Stream
69.00 CHF
3ER TRIAL BLOCK (Probeabo)
79.00 CHF
5ER BLOCK ONLINE
129.00 CHF
5ER BLOCK 60
169.00 CHF
5ER BLOCK ALL
255.00 CHF
10ER BLOCK 60
265.00 CHF
UNLIMITED 1 PREPAID
325.00 CHF
10ER BLOCK ALL
1,190.00 CHF
UNLIMITED 6 PREPAID
2,100.00 CHF
UNLIMITED 12 PREPAID
179.00 CHF

/ month

UNLIMITED 1 | ONLINE
189.00 CHF

/ month

UNLIMITED 12
220.00 CHF

/ month

UNLIMITED 6
265.00 CHF

/ month

UNLIMITED 1
About the class
EN: Yin & Yang Yoga is the unique combination of both Yin and Yang into a harmonious class are the recipe to experience the powerful forces of yoga asanas while enjoying deep relaxation with the help of guided meditation and breath work. The Yin sequence of this yoga class is practiced with a variety of passive stretches that work even the deepest layers of our bodies, thus having a very relaxing and restorative effect. The Yang sequence on the other hand are practiced actively and dynamically to build energy and strength inside body and mind, promoting a clear and focused mind. Level: suitable for all levels, especially for beginners.
DE: Yin & Yang Yoga lässt beide Komponenten in einem einzigen Yogastil verschmelzen, um einerseits durch das Ausüben der Asanas Kraft und Flexibilität zu fördern, und andererseits durch bestimmte Atem- und Entspannungstechniken einen ruhigen Geist zu erlangen. Die Yin-Sequenz, die passiv ausgeführt wird, wirkt auf die tiefen Schichten des Körpers und hat dadurch einen sehr regenerierenden und beruhigenden Effekt. Die Yang-Sequenz hingegen, die kraftvoll und aktiv ausgeführt wird, wirkt auf die Muskulatur und hat einen energetisierenden und anregenden Effekt. Die Kombination von Yin und Yang hilft Dir, die perfekte Balance zwischen Körper und Geist zu schaffen. Level: für alle Levels geeignet, besonders gut für Einsteiger.
About the trainer/teacher
Geerdet, im "ATHA" – im Jetzt stehend, beschreitet Carolina ihren Yogaweg, begleitet von Mut, Disziplin sowie einer ansteckenden Daseinsfreude. Sie erweitert stetig ihr Yogawissen und lässt ihre Schüler an ihren Erfahrungen teilhaben. Carolina hat das nötige Gespür, ihre Schüler immer wieder zu ermutigen, die eigenen Grenzen neu zu verschieben und führt sie so unbeschwert zum nächsten Level – physisch, mental, emotional sowie spirituell. Neben verschiedenen Yogastunden in beiden Studios unterrichtet Carolina alle angebotenen Retreats, leitet diverse Workshops und ist zudem die Ansprechperson für das athayoga-Angebot im Bereich Personal Coaching und Business Yoga. Sie ist die Inhaberin von ATHAYOGA sowie die Gründerin und Organisatorin der Swiss Yoga Conference www.yogaconference.ch und Mitglied des Schweizer Yoga Verbandes und der European Yoga Alliance. Carolinas Anliegen ist es, das Alltagsleben und die Anforderungen des Lebens mit Spiritualität zu verbinden. Aus welchem Grund auch immer Du Yoga für Dich entdecken möchtest, Carolinas Intention ist es, hierfür einen Platz zu schaffen, Dir die Möglichkeit zu geben, Dein eigenes Potential zu finden und zu nutzen. Hierbei ist Carolinas Yoga keinem bestimmten Stil zuzuordnen – warum auch? Yoga ist für sie in allem enthalten. Carolina hält ihre Lektionen auf Deutsch und Englisch.