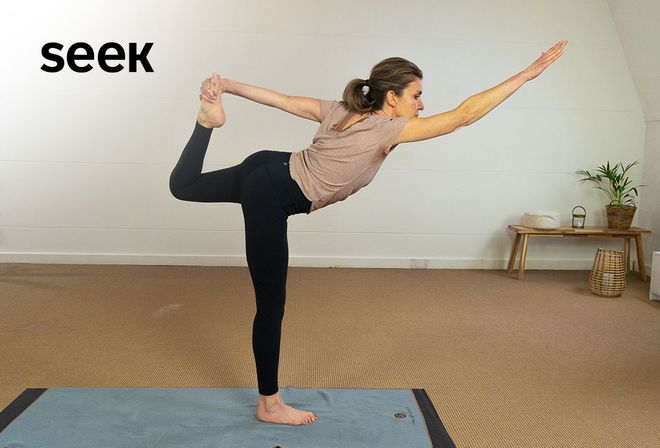 SEEK | Yoga Easyflow | Docente Nancy
Video
Availability after purchase
1 month
About the class
In deze video neemt de docente je mee in een les van Easy Flow, ontspan, luister en ervaar mee.
Om mee te beginnen mag je comfortabel gaan zitten op je (yoga)matje en het liefste je benen gekruist en als dat voor jou niet fijn is, strek dan gerust je benen.
Je mag nu even je ogen sluiten om aan te komen bij je zelf. Dit mag je doen door te voelen, hoe je zitbotjes gronden in de mat en misschien is het prettig om even naar voren en/of naar achteren te bewegen, zodat je zitbotjes wat beter gronden in de mat.
Ontspan, luister en ervaar de Easy Flow les op jouw eigen manier!
Nu de practice is gedaan houdt je de ogen nog even gesloten en plaats je de handen in bidpositie voor je hart. Adem één keer diep in door je neus en met een zucht uit door je mond.
Je kunt voor je zelf nog even navoelen of je verandering merkt in je lichaam ten opzichte van het begin van de practice. Neem dan nog een momentje om je zelf te bedanken dat je de tijd hebt genomen om even voor je zelf te zorgen doormiddel van deze practice.
Dankjewel voor je aandacht en tijd!
Namasté
About the trainer/teacher
Nancy krijgt energie van wandelen, hardlopen, yoga, tijd met familie en vrienden doorbrengen en lekker en gezond eten. Als docente geeft zij door wat ze zelf ervaart aan groei aan ontwikkeling, op alle lagen van binnen en buiten.