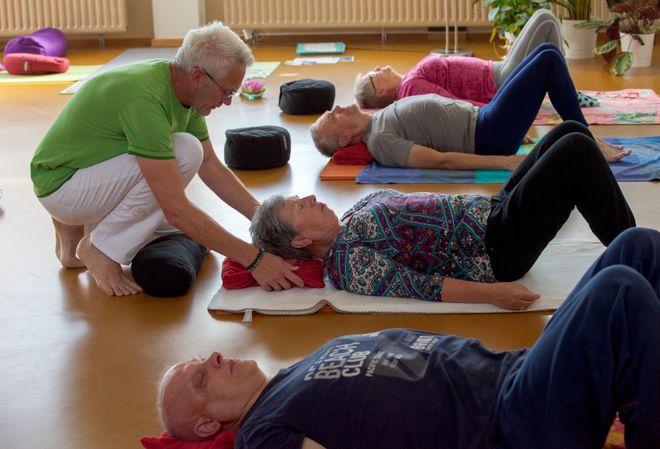 Stoelyoga en liggende oefeningen: 90 min.
Video
Facility/Studio
Life-Force Yoga & mindfulness
Availability after purchase
1 year
Price
0.00 €
Gratis Yoga Video en Yoga live stream kaart - members only (met maand abonnement)
15.00 €
Video strippenkaart 5 x
25.00 €
Online 5 x YOGA, proefkaart 50% korting!
65.00 €
5 YOGA Lessen
75.00 €
5 HERSTEL-YOGA Lessen
121.00 €
10 YOGA Lessen
142.00 €
10 HERSTEL-YOGA Lessen
232.00 €
20 YOGA Lessen
35.75 €

/ month

Lidmaatschap -1- yoga les per week
41.50 €

/ month

Lidmaatschap 1x Herstel Yoga per week
59.75 €

/ month

Lidmaatschap -2- yoga lessen per week
About the class
Easy/Herstel Yoga les met mindfulness, stoel yoga, liggende oefeningen en ademhalingstechnieken. Onze unieke herstel yoga stimuleert het zelf-herstellend vermogen en ondersteunt bij (chronische) gezondheidsklachten, zoals kanker, COPD, rugklachten of burn-out. Herstel Yoga kan lichamelijke en psychische klachten verlichten bij chronische aandoeningen zoals kanker, COPD, vermoeidheidssyndroom, aandoeningen van rug-nek-schouders, fibromyalgie, slapeloosheid en stress. Herstel Yoga maakt gebruik van veilige en effectieve mind-body technieken uit o.a. yoga, mindfulness, en ademtherapie. Alle oefeningen zijn er op gericht het zelf-herstellend vermogen van de mens te versterken en lichamelijke en psychische klachten te verminderen. Er wordt geoefend in kleine groepen en er is veel individuele aandacht. Een persoonlijke intake is onderdeel van het programma.